A nature lover has gone to great lengths to showcase one of Mother Nature's most treasured species, the king penguin, and the communities around the world that protect them in the new Fox Nation series, A Year on Planet Earth.
Wildlife cinematographer Tom Hartwell attended Fox & Friends Weekend to talk about what was special and what it was like to spend eight months on a small, remote, subarctic island to capture the lives of penguins from conception.
"I was very, very lucky to be sent to this tiny Marion Island with a small team… and spent eight months following the lives of king penguins," Hartwell told co-host Pete Hegseth. "So we follow the king penguin all the way from egg to adult and it really is an incredible story told on a just incredibly remote and epic island."
GLACIER NATIONAL PARK: EXPLORE THE WORLD'S FIRST INTERNATIONAL PEACE PARK
"It was very, very cool to be a part of," he continued.
Hartwell spent several months on the South African island filming the series at the start of the global pandemic.
Filmed in more than 60 different locations, it features many species of animals and how they interact with all four seasons in different parts of the world over a period of one year.
The story about the penguins can be found from beginning to end in episode 1 of the series entitled "Winter". The first episode also shows how animals battle extreme climates during the winter months in places like Dalen in Norway and Svalbard in the Arctic Circle.
"We certainly saw some crazy stuff," Hartwell said. "With wildlife, we all find homes and we make friends in nature, and that's why we do this job… There was never a dull moment.
"Of course there were times, you know, that was also during the global pandemic, so we were gone for eight months while all of our family and friends back home were struggling with COVID and trying to stay safe," he continued. "Of course that also contributed to things. But no, it was just phenomenal. Simply the most incredible place."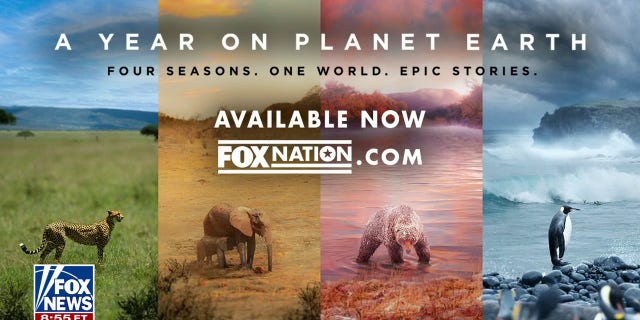 Hegseth asked Hartwell if he had given each penguin on the island a name, and he replied that it would have taken some time considering how many of the animals use the island as a breeding ground.
"We would have been there a long time ago," Hartwell said. "There are over a million penguins that go to the island to breed, so I would have been there a long time ago to give them names."
"One Year on Planet Earth" is now available to stream on Fox Nation.
#Man #spends #months #tiny #island #captures #king #penguin #story #Year #Planet #Earth